| | |
| --- | --- |
| Posted on February 11, 2017 at 10:45 AM | |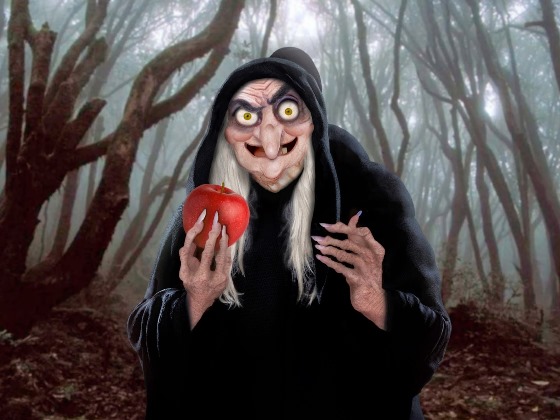 Welcoming the Hag
 I cry a song from my womb
of pain, of shame, of guilt.
I cry a song from my womb
of despair, of neglect, of rejection.
I cry a song from my womb
of isolation, of unacceptance, of separation.
It is now as my blood comes,
I hear Her voice flowing out to be witnessed in release.
This blood aspect of the crone is not being met, her inner winter is bleak, barren and inhospitable. She is unwelcome by others, she is shunned and rebuked! Oh how I deeply welcome her into me but feel the conflict arise as I harbour this unwelcome Hag. She is one of 'selfish desires' – of self-care, of rest, of silence. How dare she? I hear her deep voice of wisdom call me home to rest deep within the earth, cradled for a while to ease my weary bones. I cannot rest, I cannot stop, I steel moments above ground to deny her presence to the external world. This house guest consumes so much time and resource. Really must she stay so long and so often?
I return to her soothing balm of solace and lie awhile as she strokes my head and I feel the weary pain subside. The man of the house does not like her! He never invites her in or welcomes her. The old Hag doesn't listen to him, nor does as she is asked. This damn woman and her icy ways has a mind of her own and just ignores him. He doesn't see her beauty, he only sees her flaws; she smells odd to him too, musty like the earth and rich like iron. He doesn't understand why his wife would entertain her and court her wishes so frequently, and with such attention. Why is she absent from him, neglecting him and her duties?! She is incapable of entertaining anything else when this Hag is here.
She knows there is no choice but to surrender to the Crone's presence. Fighting her only causes deep distress. She has learnt it is better to feel the wrath and admonishment from him, than to be scarred and bent by the denial of the Crones importance. For in denying Her she bestows pain to awaken attention to that fleshy warm fold, the nest which is the gateway to all realms, the void where creation is birthed.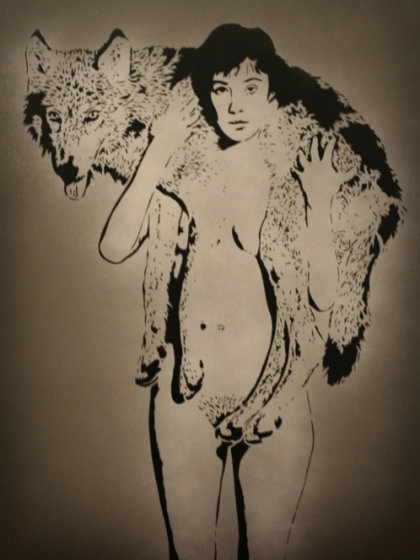 She Wolf - Artist Unknown

Over time I have come to know that my womb is the seat of my power, it is Her in the driving seat but together we journey where ever I choose.  She drives my vehicle as if we are on the run, running from conflict for being my WildSelf, from listening to my blood, from speaking my truth, from Being. I am guilty of listening to the whispers, the cries, the howls of my WildSelf. My frequency is now tuned to this channel from a Greater Power, these words over play any other sound or communication. This he cannot understand. The channel has tuned me to my blood as a sacred practice, a journey to spirit and source. This wisdom is unlearnable, I cannot turn the transistor off, for once She has felt me receive Her, I will never be allowed to neglect this pearl of truth again. It is embedded deep within my bones, churning my inner waters, which flow from me. I know now it is been this way for aeons and aeons, the moon talks with the tides of my oceans, pulling me, moulding me and weathering me. It softens my edges in the wake, tumbling away distortions that no longer resonate. I too will become a pearl, beautifully shaped by the Mother, layers of wisdom and grace formed across time tumbled together. Will he recognise me? Will he still know me? Will he come to love this cherished old being too as I have now so many moons have passed?
The Crone calls me to my Priestess self, I am called to attention to do the Work, the very essence of my being which yearns to be above ground, to feel the winds of time for all to see. Each moon She calls me deeper into union with Her, I know I am needed out in the world in my fullness, whole and present to the four inner women that dance around my womb as the cauldron of my being. I know this fully from sitting at the foot of the wise old Crone, receiving her radiating wisdom which calls me to my true self; whole and present to all my aspects. It is only in this full integration that I may birth the core of my being through my work. I stand with open arms welcoming my fullness, breathing in my WildSelf, my Maiden, my Mother, my Maga, my Crone. I am open to receive the medicine from each woman pouring her gifts into my bowl of creation, so that I may dance to my own song.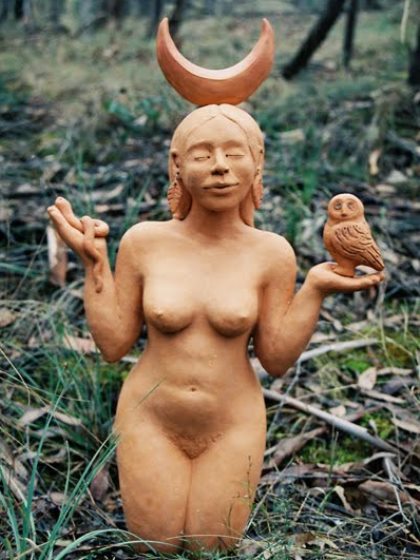 She by Lucy Pierce
In owning this beautiful soft, wrinkly woman of love and calling her into me I stand openly to my Beloved. It is only in the denial of her that the fearful gruesome aspect is seen, this Crone is the bringer of death but she also gifts rebirth and that is the natural order of things. Each month something shifts and dies and I have the opportunity for change and growth, which brings new life. Yes she is trixy, outspoken, and difficult too but she is wise and loving, and has magic in her bones. She gives of me so much and for that you must see. In loving me, you welcome all these women into our house. I am a full woman, I am a bleeding woman, I am a changing woman. Persecution, shame and judgement cannot touch me now nor push me to conform, for I am protected by these circling women dancing around my core.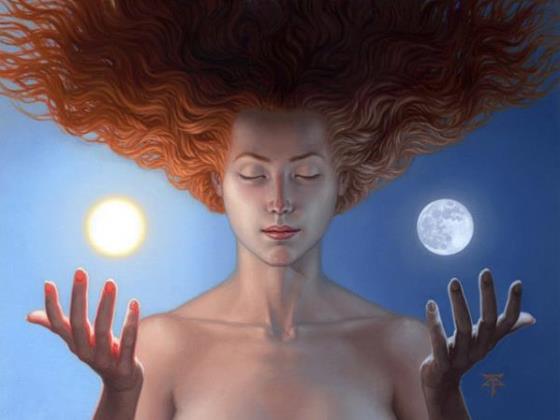 Balance - Artist Unknown

As women we need to be fully met in all our guises and aspects. Society has long shaped our way of being and imposed unrealistic beliefs onto us as women. We have pushed the unpalatable aspects far into the shadows for acceptance at the expense of our health and wellbeing, and to the detriment of our greater community and our beautiful Earth. To be a complete woman, is to be whole. To be loved and valued in this place as such, it is that which enables us to give of ourselves fully to the world.
Honouring each aspect of the self through Menstruality consciousness enables women to come fully into being. This awareness and mindful practice reclaims missing denied aspects of the psyche. It heals trauma, pain, shame, abuse and disconnect to name a few. It is a deep process of remembering which brings profound healing through courting the elements of challenge and conflict. With Menstruality mindfulness at each phase of the cycle there is a greater awareness of our triggers, our core wounds and how we can best serve ourselves into healing. This work brings a greater awareness of tenderness and loving compassion for the self, it fosters integration and cultivates a whole new way of being, and it is a way for women to come home to themselves.
Relationship healing is possible through this work, in meeting ourselves fully we are better equipped to meet others from a place of holding, authenticity and truth. This modality helps to heal on a physical, mental, emotional and spiritual level and is not limited to symptoms just associated with your period. If you would like to book a Menstruality Mentoring session to work with me on which ever aspects are present for you then please get in touch.
Crone Blessings

Categories: Menstruation, Ceremonial Menstruation, Red Tents and Moon Lodges