| | |
| --- | --- |
| Posted on January 12, 2016 at 8:20 AM | |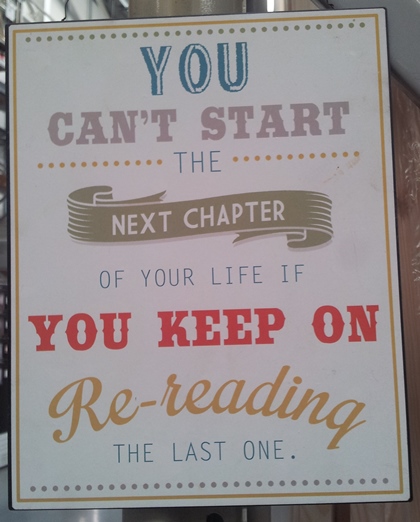 My time as a child growing up was spent hiding in bushes, making camps in trees, watching and listening to the wandering nature that passed me whilst in my den out in the woods, collecting blossom making perfume and other wonderful concoctions!  I was fortunate that we lived outside of town up on a beautiful wooded hill that had few neighbours who actually lived quite far away from us.  It was an enchanting time and one that was foundational to who I am today.  In some ways it saved me with the complex family story that was playing out at the time.  I felt held by sharing my inner world with trees, plants and the beautiful green part of Devon I was living in at the time.
I was happiest up trees, communicating with nature and feeling at one with my surroundings.   I sensed the magic in the unfurling of leaves and blossoming of buds and flowers.  Being present to the stillness I listened to bird song gleefully watched the glow bugs in the bank and knew and respected the unusual sacred plants that grew around us.  This is where my love of plants, little creatures and the wild comes from.  I was let out in the morning into the wild, like one of our crazy dogs and whistled for when it was time to return in the evening for food from a very young age.  I am thankful for the age of innocence where children were left to be children, and the concerns of safety as they are today from external influences didn't restrict my deep nourishment in creating connection with the earth.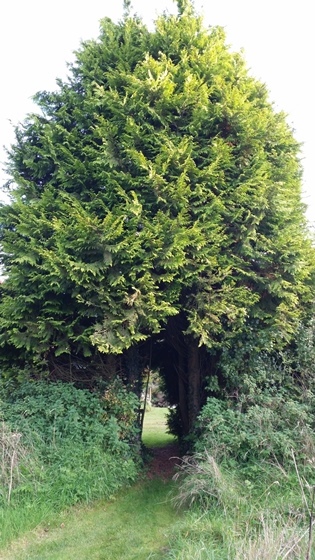 The Cypress Doorway Springside

Time passes and life picks you up and carries you along…….
Travelling in ways that help me find and collect parts of myself that have been shattered or jarred over the years, I have been treading a path of self–development, developing my work in natural medicine and healing, and in turn entering a becoming of who I am at my core.  I have felt this so acutely over recent years that I feel like the small child wrapped in cypress trees, imagining a world where magic, wonder, sensitivity and healing are natural and flow effortlessly with ease.  There has been a sense of coming home to myself.  In that alignment I have felt better equipped to be the guide and facilitator for others to find a way home to themselves too, to aid healing and offer support.  My work has developed in ways that have served my own navigation home, my own birthing and committed self-care practices to support healing.  This has been a process of remembering, of claiming old ways of being that spread back down through the mother line, through my womb and out into the world.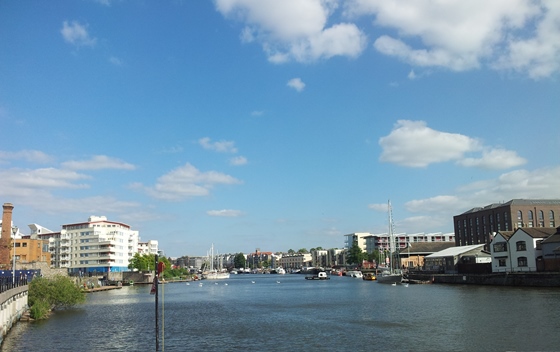 Bristol Harbour

I spent 15 years in Bristol, working, learning and growing.  I developed my work and shared of myself in circles of support.  I was gifted wonderful opportunities that helped to serve me in my becoming.  I made loving connected friendships that fill my heart.  I truly enjoyed the wonderful melting pot that is Bristol.  It is such a crazy, fantastic place, open and progressive, and intensely creative.  My time living on Windmill Hill was colourful and is full of fun memories and I was blessed to spend time with my beloved in creating our various homes.  I have always been a good home maker, settling in and rooting, caring for the space, filling it with love and so it has been quite wrench to leave our place in Eldon Terrace.  It held me in such a tender way over the last few years with big health challenges and my labyrinthine journey through the underworld to rise and reclaim health; all adding to the collection of pieces of my becoming.
The concrete was always an issue, living so close to Victoria Park and with close access to the M5 meant I could escape the city and return to the green, where my heart's calling resides.  Tending to the plants in my little garden with a view across the whole of Bristol to Ashton Court served me but in the end the traffic, the constant 'on-ness', the dense population and the lack of green right on my doorstep pushed me to choose to leave the city and return to the green.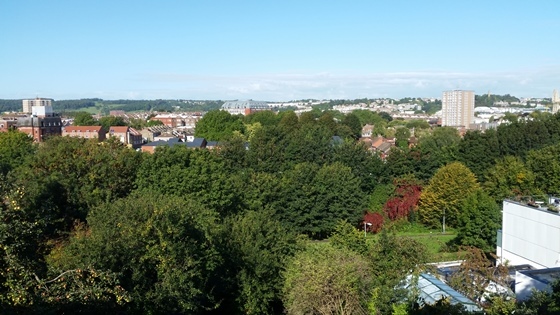 The view from our old house in Eldon Terrace

My husband and I have spoken of this for years and have dreamt of how we could manifest it spending long nights searching websites for houses that could hold us in our next chapters of our lives, crafting vision boards holding our dreams, trusting that the sensation of being outside and on the land would support us and nourish us.  We took the plunge in the summer of 2015 and made the changes to begin to make this a reality.  We threw caution to the wind having not found a forever home but feeling that we just needed to move and rent and trust that the right place would come to us, to commit to this new way of being, to create the void and allow the new to come in.  We put our house up for sale, called in a new place for us to call home and waited.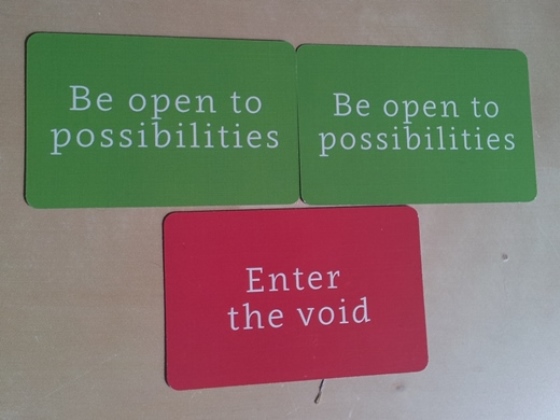 Cards picked in the chaos of packing and moving

This has been a lesson (another!) in surrender.  We have trusted that it will all work out even when there has been panic and fear, have we done the right thing??  Will it all work out???  It has been hard doing the dance of uncertainty, being in constant limbo for quite some time. Sometimes it takes a while for things to land and to hold the vision when resources are tight and the waiting feels like forever is tough.  This move feels so important for me, for my work, for my relationships, for family, for life.
Being in this place of liminality has meant that work has been very much behind the scenes, crafting essences and sending out to far flung places across the world which has been so exciting and incredibly fulfilling.  There has been no space yet for seeing clients, holding gatherings or teaching events.  This has felt quite hard to hold the tension as I have been unable to commit to projects, to work without knowing fully where we will settle and root.
Angel Cards chosen for our transtiton through the void

We then found somewhere that truly makes our heart sing and with a continued dance of 'can we have it, can we make it' and the universe really testing us, making us get clear on what we are moving to inhabit.  There have been complications with the practicalities of selling and buying houses but all being well we should be moving there in the spring, which is quite apt for a place called Springside!  It is a place of wonder with such incredible unusual plants.  Home to a man and his family with a deep connection to Stone Henge, there are little replica henges all over the place with herbs and trees that call out for essences to be made.  Really as a Vibrational Essence maker this is such a boon to be moving to a place where nature calls clearly and speaks volumes.  There is space for Clarity Vibration to grow and be a place of support for those needing it and a fertile place to share wisdom and connection.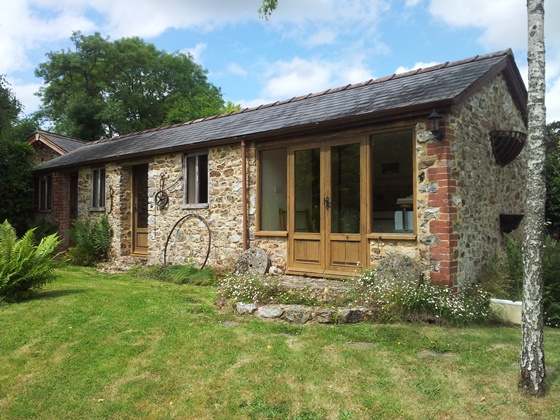 Clarity Vibration HQ Springside

Meantime there is relief in knowing where we will be in the coming months, until we move and this feels more spacious and allows a deeper breath.  I am able to commit to projects and plan how the coming year will shape up.  I will have space to see clients and run events in Hemyock at Springside, which is in the Black Down Hills in Devon, a truly spectacular place of natural beauty and wonder which have been protected as an Area of Outstanding Natural Beauty (AONB) since 1991.
Currently I am able to see clients one to one for mentoring or bespoke essence blends and remedies over skype as usual, but I am also happy to travel to see people in their own homes if that suits for Feminine Mentoring and Menstruality Coaching, Healing, Shamanic work, Womb Blessing and Womb Healing sessions.  I am in the process of seeing if there is somewhere I can work from adhoc in Exeter and Taunton so watch this space.  I hope to resume running regular women's groups, teaching events and healing circles in the early summer once we have settled and will share eagerly when we are at that point.
I am open to work across the southwest of England, my base whilst in limbo is in Bradninch near Exeter, so if you wish to work with me and are unsure about whether I will come to you just get in touch to discuss what might be possible.  I will still be travelling to Bristol regularly to run events so if you wanted to book something in with me whist I am there do get in touch to see my schedule.  I will be slowly updating the website and social media to change Bristol based information as when I have the new details defined.
Do get in touch if you would like to work together and book an appointment with me.

Dark Nourishing Winter Blessings x

Categories: Ecology and Environment, Vibrational Essences