| | |
| --- | --- |
| Posted on August 28, 2013 at 2:50 AM | |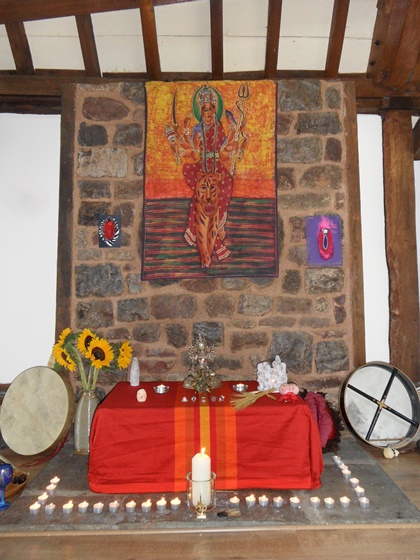 The Red Tent Weekender was held over the Lammas weekend in August 2013.  It was a seed planted by the gorgeous Carley Oates that I wholeheartedly ran with.  We were totally blessed by Rachel Woster to have the entire space at Yanley Court in Long Ashton, Bristol to make this a sacred and special event for women all over the country to come and gather together in circle.
In true spirit of embracing the feminine, putting a call out for women to offer their skills 'just for the love of it', for the weekend enabled a rich weave of dance, belly dancing, yoga, meditation, drumming, singing, cuntcraft, ceremonial fire, sewing and a Lammas Nature mandala; coming together in only the way women can, with a huge banquet of delicious nourishing food and an opportunity to connect with new 'sisters'.  We had such a fabulous wealth of knowledge and experience from the diverse mix of women that came,  it was such an honour to create this space for everyone, to bare witness to the sharing and watch women's courage ingnite with their sparks of strength, wisdom and knowing.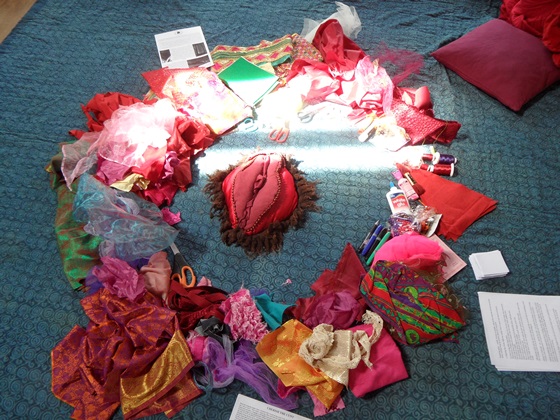 For a sneeky peek at how our schedule took form you can click here ~ although to be fair so much more manifested organically.  When women gather, magic happens.  In the feminine way it is about 'Power with', rather than 'Power over' and so networking and plans began cooking in the soil of this great weekend for future events.  Women brought their wares to sell, Rachael from Moontimes enabled women to explore the healthy and ecological alternatives of washable and reusable menstrual products.  Della Timbrell from  https://www.facebook.com/poppymitzy" target="_blank">Dellawear Funky Jewellery came with gorgeous jewellery and adornements, I had the Blue Moon Blessing Essences and women shared their skills offering one to one healing sessions of Womb Blessings and Crystal Grid Healing.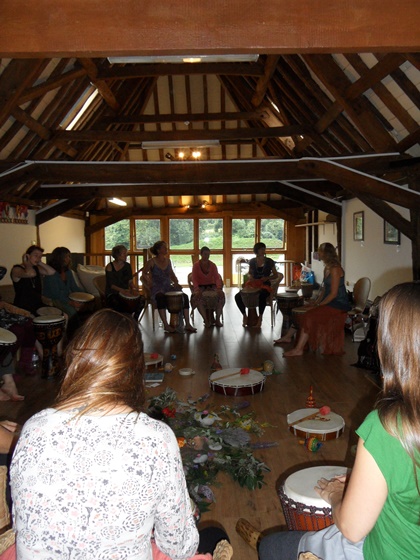 Creating the space with Carley felt like such a blessing and surrendering the whole event to the Goddess was such a good move.  I started to feel overwhelmed in the lead up to the weekend and called in the Divine Feminine to hold us all in the unfolding of the weekend.  I wanted this event to flow well, with women feeling the love and intention that the notion was concieved in.  Offering it up to the altar of the Scared Feminine allowed the weekend to unfold exactly how it was supposed to.  Women of all ages gathered in circle and shared their rich threads onto our shared loom.   I was moved by women being strong in their vulnerabilites and trusting us with their truths.  We danced, we screamed with joy and laughed in loud, heart opening cackles, in ways women can only do when they come together.  Our energy bodies were vitalised with beautiful guided visualtisations and we sang to the Goddess with scared kirtan chants thanks to Rachel.   Hearing my name being revered as one of the beautiful Goddesses with the whole circle of women chanting our names in turn had such a profound effect on me.  All hairs on my body stood on end and I felt greater than my physical body, expanded by the loving vibrations.  The sensation lingers with me even now!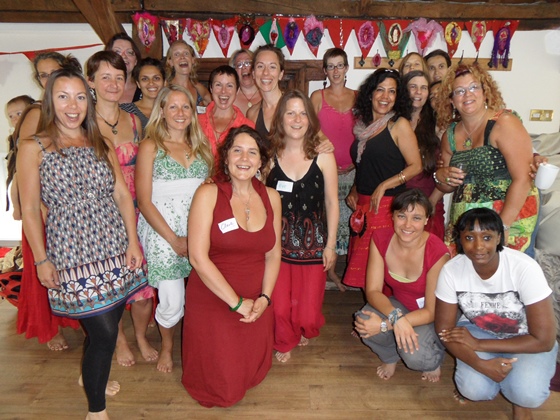 Sunday afternoon's 'Menarche and Blood Mysteries' workshop that I ran with the wonderful Rachel Hertogs of Moontimes brought all women together to sit in circle and talk about the sacredness of our blood and how we need to rekindle the marking and celebration of first blood, menarche for our daughters.  This opened up a deep dialogue for women on all stages of their journey with the women's mysteries work.  For some this was totally new information, for others it was an opportunity to share their liberating expericences of their moontimes.  Some women were no longer bleeding and in their 'moon'o'pause' holding their wisdom.  A story shared of a hysterectomy and how a sister reclaimed her womb space, brought hope and understanding in eductaing and owning our 'power' when intervention is the best solution to pathology.
Conveying the importance of concious ceremony to menstraution held a deep awakening for the circle.  My message was to urge women to be present with their blood.  When we bleed, all symptoms are sign posts to connect us to our bodies process, calling us to go deeper and receieve the healing medicine that we are gifted each month.  Each cycle we are given the opportunity to release, let go and empty out all that no longer serves us.  Through the sensitising phase of the Maga, of the pre-menstrual time, issues are highlighted of what we need to work with; what pisses us off, presses our buttons, lessons we have to learn again, and issues that place us firmly in our shadow!.  When we consiously connect to our blood and how it flows from us when we don't 'plug up' we are provided a medium to allow a total release.  I called women to be fully present when soaking and rinsing their moon pads, to actively call in the things you are struggling with or issues that you are working through and wish to clear and be done with.  " I am releasing all pain, grief and shame around this particular issue.   I release my self from judgement or crictism around this or that.........."  Do this in a ceremonial way that brings full intention and ritual.  Then returning your sacred blood, that has genetic coding from your DNA to the earth, be it directly to plants in your garden or pot plants that you have, you can call a clear connection to source and ask that your prayers of release be heard. Pouring your nourishing fertilising blood back to the mother and asking that she purifies and transforms your pain to the blessings of release.  The act of returning your blood to the earth is grounding and stabilising and allows your root chakra below your feet to open fully, and plug in to the earth.  This enables a more grounded embodied experience of life where you can process things quickly, release and move on.  Sending your roots into the earth, provides a deep support and strength which offers a holding that enables one to better navigate the tricky parts of life, with a clear conscience and greater awareness.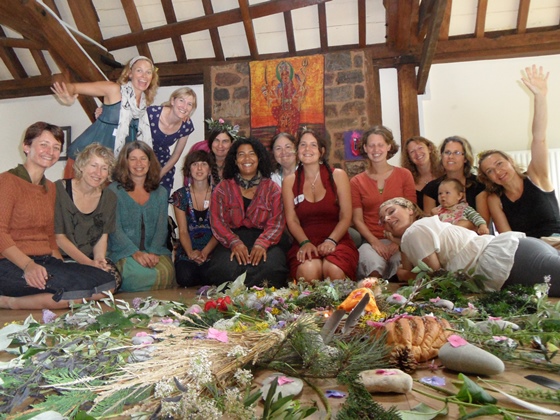 The weekend felt like the begining of something wonderful, with more events planned for the future.  We had such a fantastic mix of events and space that allowed women to take part or take solace in our Inner Circle space.  To reflect, to rest, to consult oracle cards or to listen to their own inner teachings.  It felt really special to have women of all ages from a young girl with her mum, mums nursing, mum's to be, cycling women, grandmothers and women who cycled with the moon.  This cross section of 'Woman' in her real, raw, truth was an honour to witness and to be a part of.  The weekend was real proof that when women collaborate beautiful things manifest and in honour of the Lammas Harvest it was clear that all these women definitely had the full bounty and abundance in their lives to be thankful for.  I know I counted my blessings for pulling such a fab weekend off as part of my Harvest Celebration!!!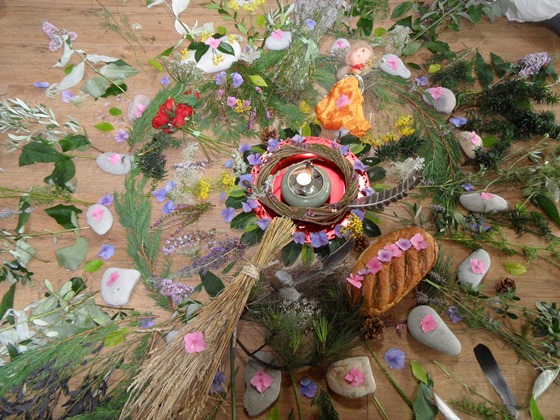 Bright Beautiful Blessings x
Categories: Red Tents and Moon Lodges, Celebration of Rites of Passage, Ceremonial Menstruation