| | |
| --- | --- |
| Posted on March 1, 2019 at 10:40 AM | |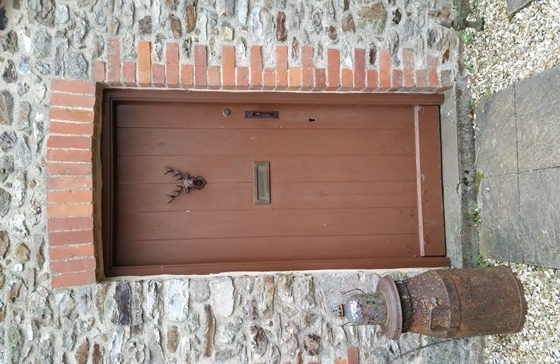 Spingside's Door  - Coming Home

Coming Home is a deep courting of yourself as though a lover, attending to every detail, noticing all the nuances and flurries of energy.
Coming Home requires time and tender commitment to be seen in the full spectrum of you; Shade, light, colours_ all that's in between.
Coming Home means surrendering all those masks, the fragments which keep you separate, the pieces of you in isolation in a state of fear or insecurity which prevent intimacy ~ In-to-me-see.
Coming Home is a calling; a calling of yourself back together, to be fully present and whole.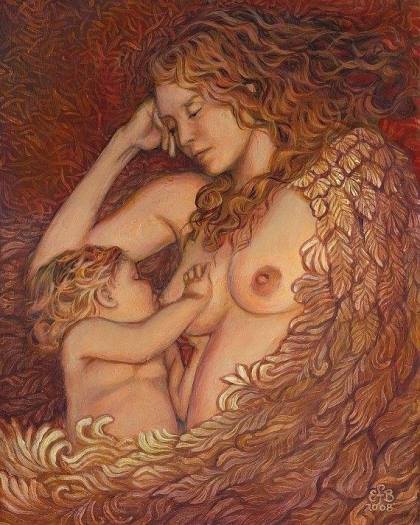 Angel Mother - Artist unknown

Holding each piece of your full self, as if a mother full of love with a new born, suckling at her swollen breast so you can drink of such love filled nourishment that your fragmented parts seal with gleaming gold. A light of healing beams from these mended seams, scars of truth gathered along the journey. We are all our experiences. Our threads come from the steps we have taken. We weave a braid which is distinct to us and the patterns sing of our uniqueness, our own beautiful song. Think of yourself as a blackbird, a nightingale, a tiny wren. Each song is no less beautiful, it is of itself. As you too have your own blessed frequency of light, which is so deeply needed and required, now more than ever to sing clearly out across our incredible planet, Dear Gaia.
Coming Home is sinking your soles; your soul deep within the darkness of Gaia. Root yourself within her nourishing soil. This is home, the source of our sustenance, our vitality and our essence, awakening all centres to be a clear vessel and channel, a beacon to anchor more love into this profound dimension. In clearing our inner obstacles we can be diamond lights, hollow bones and open hearts from which all life flows.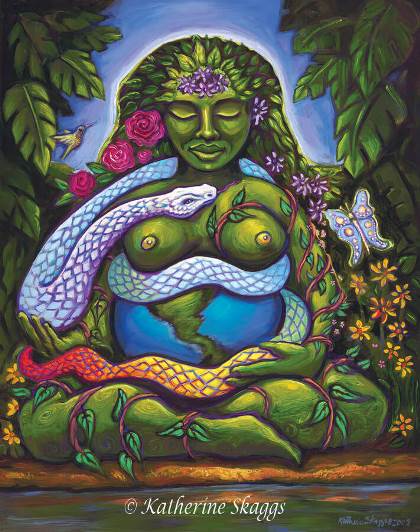 Gaia - Katherine Skaggs

Awakening your Feminine energy and aligning to the source of your Feminine Soul power all comes down to connecting to your womb space, and making peace with any experiences or emotions which have been squashed down in to this energy centre which is responsible for creativity and life.
A crucial part of womb healing and stepping into your power starts in reclaiming the rite of passage of the Maiden, healing first blood and how you experienced this time. The experience of menarche shapes the trajectory of a woman's life; its frequency ripples out into self-worth, self-esteem, ability to make decisions, confidence, the capacity to hold oneself, sexuality, fertility, the ability to manifest and so much more. It impacts all the rites of passage which follow this time and sets the tone of experience for pregnancy, births, menopause and beyond.
Many women embarking on feminine empowerment work overlook the deep soul healing needed in their seats of creation, their womb space. The re-visioning of this time can happen at any life stage. It's the commitment to go there and lovingly hold yourself in this place with whatever arises. As women we spend much of our time trying to juggle so much out in the world, and often there are many tethers that keep us stuck or weighed down by 'old story' energy, it can be hard to create space to turn within, to be with what arises and begin healing.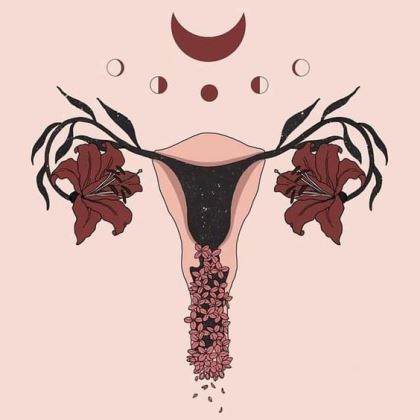 The Menstrual Cycle - Maria Rikteryte

Coming Home literally means being able to reside within your own place of home, your soul being able to incarnate fully into your earthly body. It takes big commitment to truly be able to BE IN PRESENCE. To be fully with your soul path, to see that which plays out as karmic soul contracts to deepen your capacity to be and hold the light. Journeying to the depths of your inner world, your underworld and lovingly caressing all the unseen, shamed abandoned parts is a process. This is no overnight pill popping journey of enlightenment. This is a journey of Endarkenment. Finding the light within, to carry the burning torch of love down deep into your womb space to see what resides and what needs welcoming home. Having the capacity to hold the light in these neglected places and embracing the shadow is a courageous act, one in which we are rewarded with jewels of insight, the impetus to care for ourselves with greater skill and commitment, to communicate our needs more clearly, and one which gifts us gold of understanding of why, who, when, which, where...... all the ways we can grow and evolve to be the best version of ourselves.
Working with our womb space, the wisdom that resides here from our innate connection to nature opens a door to our Re-wilding, to come back in to right relationship with our wild nature. We are of nature, not separate as the ego of human minds would have us believe. Healing our lower energy centres is paramount in strengthening our connection to the Earth, to link us deep into Her core so as to drink in and receive Her wisdom. Activating the Earth Star chakra below the feet helps us to be fully present in our bodies, it also enable us to receive nourishing sustaining energy up into our energetic systems, our subtle bodies, our nervous systems. This helps us to access the life giving vitality which our lifestyle in this fast paced modernity takes away from us.
When the womb space holds pain, wounding, obstacles, and unattended emotional baggage it hinders the flow of energy up from the Earth Mother to our systems. It limits the capacity to receive fully, which is a feminine skill, to open, to be receptive to be the cup which flows, the vessel from which all life in its beauty and vitality pours forth. Clearing and healing this space is the key to accessing our ability to be fully present as a woman in our earthly body, anchoring the divine celestial energies, whilst being a channel for the earth and heavens to commune through.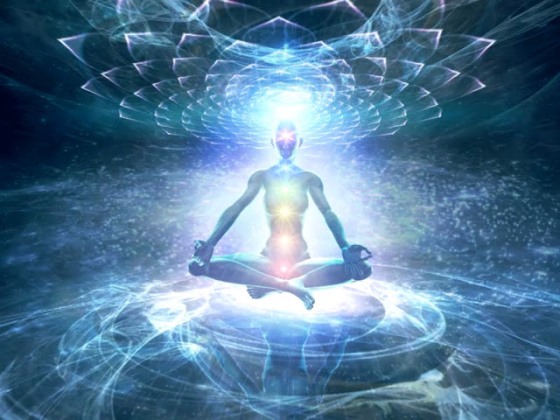 Light Body - Artist unknown

Our inner sanctum and sacred womb space holds such profound wisdom as we are worked by our monthly rhythms, the moon speaking through us as we dance the journey of menstruation and ovulation. Harnessing the magic of these natural forces which speak directly to us and through us is the gift that is offered through our menstruating years and prepares us for the initiation of our Elderhood at Menopause. Coming into direct connection with our sacred moon blood is a union of the power of divinity in human form. We are gifted the opportunity each month to offer our prayers and our blood to the earth as a means for connection, communication and healing. The very DNA of our blood holds crystalline codes of our energetic being which when held by the Earth Mother, enables her to direct vital healing energy up through these energetic roots to us. Returning our sacred blood to the earth fosters a deepening connection of these roots to the energetic core of our home, our Mother, it enables an opening of our lower chakras so we can incarnate fully and be who we came to be, to live our soul's mission. The threads of energy flow both ways so we can fill our looms of life, lived in right relation and in alignment with our soulful missions and pour our love for this blessed life back down deep to the Mother for her healing. Our capacity to hold the light is supported by our deeply connected roots; the greater we are plugged into Gaia, the greater expanse of light we are able to open to through our crown and hold without blowing a fuse in our energetic systems, which can create all manner of imbalances and symptoms.
The disconnect, revulsion and shame that surrounds menstruation which is prevalent in our culture today keeps women separate from their innate womb wisdom. We have our own spiritual practice which is feminine centric, led by the power of our wombs and the lunar tides of our inner oceans. We have been severed from this deep holy practice and from the energetic links to the earth so we can receive guidance, healing and vitality. We are our own oracles. We are the seers and mystics of our own Becoming. We are the ones with scrying bowls deep in our bellies which receive loving wisdom and guidance from the very core of Earth Herself. If only we were to slow down, be in silence and stop to listen, to bleed in peace on the earth, to listen with the ears of our wombhearts to really hear, we would no longer need to spend so much time searching for answers outside of ourselves. We are the Mystics; the feminine equivalent of Mastery, a process of success and perfection. As women we deepen into the Mysteries 'Miss- Storys' that lie within our wombs and empower us to be light bearers birthing a new creation.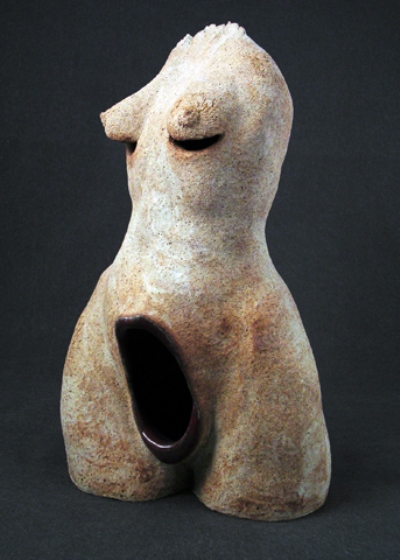 Pythia - Anne Russel

The fullness of my work with Clarity Vibration is to be an ally and guide for women to access these Inner chambers which are separate, numb or closed off. I support women in Coming Home to themselves in all the complexities of our multidimensional selves. Breathing and being with what arise from our inner core, facing the grief, sadness, loss or whatever holds us stuck, creates inner abandonment and limits our light or capacity to grow. I offer practices which enable women to inhabit more of their fullness, to reclaim these fragmented aspects and stand in their beauty, strength and wholeness. This is a deep journey of re-membering and loving yourself into being, creating a life which is joyous, expansive and receptive. I encourage a space of courageous vulnerability learnt from my own deep practice of loving myself in to wholeness, welcoming all the wounded neglected parts back in with compassion and acceptance. I hold my hand lovingly at the back of women, supporting them to walk their own paths with courage so as to be the best version of themselves, welcoming in the life their deep wombheart dreams of.
I use healing practices as a catalyst and portal to gain access to that which needs supporting and loving into wholeness. I hold women with somatic awareness, vibrational remedies, shamanic journeys, visualisations, Menstrual Medicine Circles, mentoring, ceremony and ritual, honouring rites of passage, Reiki, Womb Blessings® and Womb Healings®. I run Red Tents, Seasonal 'Springside Heartspace' gatherings and ceremonial circles to empower enliven and support women to stand in their fullness. Working in this way is a joyous gift for me to see women grow and flourish, whilst building a community which is earth centric, courageous, love filled and ready to walk this world into a new way of being.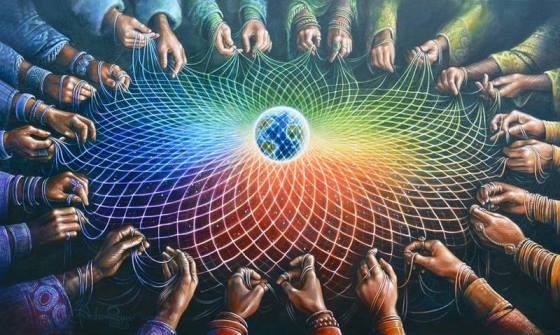 Weaving the World into matter - Atrist Unknown

If you feel the call to step more fully into Coming Home, to access the beauty, power and wisdom to inhabit your full selves, which his innately available to you, I would love to hear from you. You can work with me one to one, or join a circle and be part of building a conscious community.
Embarking on this healing journey with me is an act of loving compassion, one which empowers you to be YOU, in all your glorious uniqueness.
I look forward to hearing from you.
With love and Blessings
Clare

Categories: Ecology and Environment, Menarche, Energy Clearing