| | |
| --- | --- |
| Posted on January 28, 2018 at 5:10 AM | |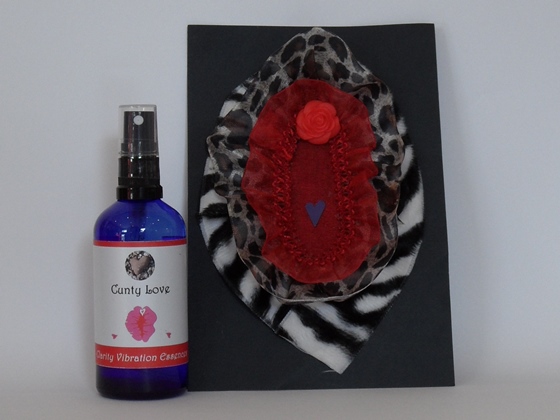 Today I am writing this blog because I wish to talk about my dear friend and beloved Sister Colette Nolan. We met many years ago at the first Red School Women's Quest Apprenticeship in 2010-2011. We clicked, we got each other, we laughed, we cried and we forged a beautiful connection together. A number of years later when Colette was stepping evermore fully onto her powerful path of demystifying taboos around sexuality and reclaiming the word cunt for all the potency it holds for us as women, she asked me to create a blend of vibrational essences to support her in rooting more into her own authority with her work. This was the birthing of Cunty Love, a blend of alchemical ingredients to support women in connecting to their source power and sexuality. You can read more about how Cunty Love came into being in the Crafting Cunty Love blog.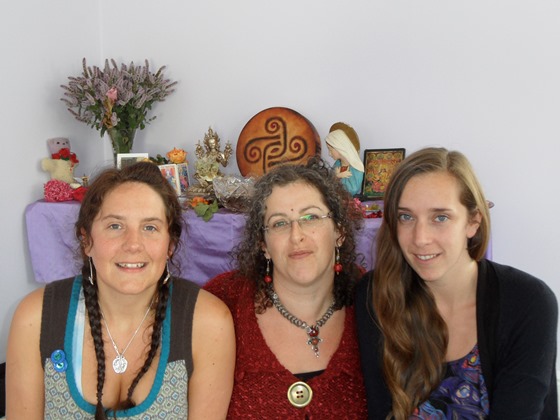 Me, Jaquie Riqez and Colette Nolan - The Women's Quest Apprenticeship 2010

Colette was working hard with the School of Social Entrepreneurs bringing her sex education program Doodle Your Down There to the world.  She would come and stay every month with us in Bristol and I looked to this time with an indulgent excitement that we would have time to hang out, chat about all the things that mattered to us and share our deep heart truth.  At the time I was having my own journey to the underworld with multiple bowel operations.  It was such a hard time for me and I was so deep in the psychological process, trying to face more surgery and the awful experiences that went hand in hand with such invasive procedures.  Colette was a gem and my total confidant.  She listened hard and gleamed all she could from the mining of gold that she could see I was doing. I was wading through all the 'wounding' on a spiritual and energetic level that would help me make sense of the open weaping awfulness which was happening to me.  I loved the way she took the piss and laughed with me about the whole journey of 'The Arse' as it became so affectionately known, she wanted to send me chocolate ringpieces as a gift. I love the initmacy we built in these times and I trust her with my innermost treasures.  It was at this time when she was staying regularly that she brought the Cunty Love aura spray with her and I had the opportunity to use it.  It made all my hairs on the back of my neck stand on end, my access sense was totally activated and I could feel the utter magic that was captured in the bottle.  It was a joy to try it, to see and sense what I had crafted for her in the fullest sense, we knew this had to be available for all women to use!

Over the years many women have come to me with shock and awe about Cunty Love, it is always a conversation starter when I tour with the Clarity Vibration Essences to workshops and events.  I remember once being confronted by a women saying 'Do you know what you've done with this!?'  My intial reaction was what, what have I done? Feeling a little panicked.  She caught me off gaurd. She was commending me for the paradigm shift that this vibrational blend was radiating. Needless to say women who experience Cunty Love find it to be such an energising vitalising awakener.  This isnt just about connecting to our sexuality to create a better sexual relationship with another, it is truly about connecting to our Cunt, our true sexuality as our root connection, to our own authenticity and authority, as a source of our energy and power.
Now the reason of this blog today is to really acknowledge that Cunty Love would not have come about without my dear connection to Colette and her work with the I Heart My Cunt and The Cunt Loving Emporium in her role as Lady Cunt Love. I am blessed to be able to offer this as a Service to woman and her connection to the Sacred Feminine. For anyone who knows Colette you will have seen that she has been on a tricky journey with stage four triple negative inflammatory breast cancer, a rare form which is hard to treat.  She was diagnosed in 2016 shortly after birthing her beautiful boy in spain and has been on a mission to heal and to embody love rather than fear in pursuit of wellness and health.  I travelled to be with her, it was so hard to see her in the Hospice in Hastings, holding her hand and encouraging her to trust and let people in so that she can heal.  I also travelled to be with her in Istanbul where she has been having radical treatment. I was blessed to be with her when she learned that the treatment was working which we saw so clearly on her scans!! It was such a momentus time to see that her body was doing all that it needed to be well, and that the doctors in Turkey knew their stuff with their poineering oncology treatment.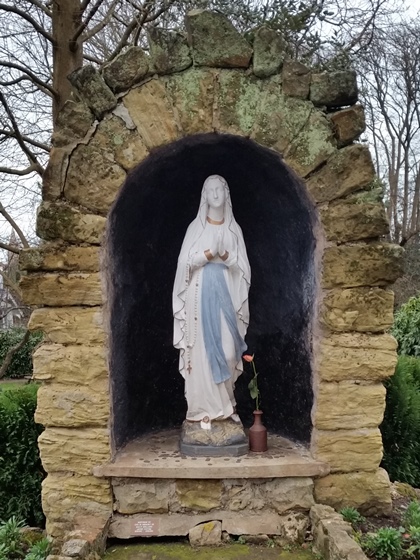 Mary - A blessing to find her holding space at the hospice in Hastings

I have donated as much money as I have been able to give.  Large amounts and small dribbly amounts, anything I can give to support her and her family whilst she is having life saving treatment. My family have given money too as they see how much I love her and pray for her to be well. It has been so heart warming to see her community far and wide galvanise together to raise funds to ensure she can continue her treatment. I give regularly through her Patreon page where she shares poems and pieces from the book she is writing.  It is a great way to support her financially.  There are many other ways, events on social media and crowdfunding pages. Colette shares much of her experiences on her vlog so people can get a glimpse of how it is to live as a young mother with cancer. You could also run fund raising events yourself if you feel called to.  A regular event which Colette loves is Cunt Craft and you can bring this to your own community or Red Tent if you wish. See Rachael's Moontimes blog for more details.  As Rachael says if Cunt Craft is a little risque for you or your community then Vulva Streamers, Yoni Banners or Fanny Flags may be a way of framing it .... whichever works for you, it doesnt matter as long as there is a way for money to be raised for Colette.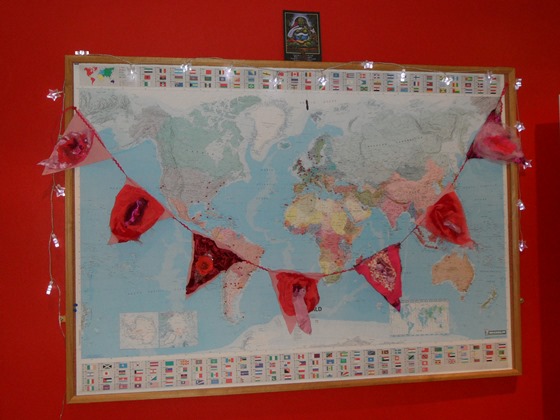 Cunting all Around the World - Cunt Craft Bristol 2012

To support me in giving money to aid Colette I am donating 10% from each sale of Cunty Love. This isnt a self promotional stunt! I would like to be able to give more but I keep the margins low so the aura sprays are accesible for people. I want to find more ways to be able donate to Colette's healing treatment and to also help her strong loving husband Tim so that he doesnt have to fret about where money is coming from, to pay bills or buy food, and for all the things that little Zeb needs as a growing toddler. Of course if me doing this prompts you to buy more Cunty Love then brilliant, order away. I want to be able to give to Colette in a sustainable way and doing this helps me to do so. Ultimatley I hope this blog highlights Colette's situation and encourages you to offer support yourself. You can do this through some of her donating gateways so she can access the cash more readily. Having treatment in Turkey is not cheap and she needs to have someone with her at all times as she is unable to be on her own. Colette has been quite unwell of late and her need for financial support is ever more important.  Please see if there are ways you can help. Consider trading a coffee you might buy weekly to a regular drip feed donation. Every bit helps, small, large whatever you feel moved to offer. We will all be so grateful.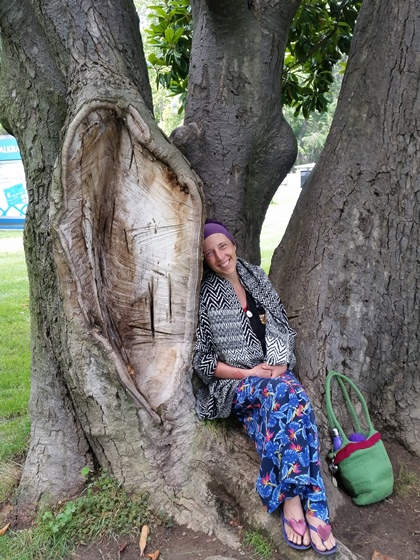 Colette recharging at her favourite magnolia tree in Istanbul

So much love radiating out to Colette, when thinking of her and sending love please visualise Colette whole, healed, complete and vital.  If wishing to send energy and healing please focus this into her beautiful bones, deep into the marrow where the new cells are formed.  See them cancer free, vital and healthy.  It is so important to hold the highest frequncy for her.
From the depths of my wombheart I give thanks for your love and support of my dear sister Colette. x
Categories: Vibrational Essences, Sacred Sexuality, Cancer