The Blue Moon Blessing Essence is finally out in the world.  It feels so good to be able to promote it and shout about it.  This essence has been cooking inside me for such a long time.   I chose not to speak of it or its manifestation until I knew clearly that there was no going back, and that it was almost imminent. 
Read Full Post »
So With 12 days to go I have decided to put a call out to women who would like to join me for the full moon World Wide Womb Blessing on monday the 29th of October at 6pm.   I was undecided whether I could do this event as I have recently had to be in Devon supporting family members with some major issues.  It has meant that many of my creative projects have been put on the back burner.   I had hoped this coming Womb Blessing would follow on from the w...
Read Full Post »
After several weeks of liasing with women from all over the globe, we had 14 wonderful women join us here in Bristol at the Centre for Whole Health for the Moon Mother training, led by Miranda Gray.  The incredible thing was that women travelled from places such as Mexico, Rome, Holland, and France to name a few.  We had two women from Canada, Poland and others who came from closer to home, h...
Read Full Post »
The World Wide Womb Blessing that took place at the College Project on the 2nd of august was a fantastic celebration of the Divine Feminine.  We had an incredible number of women join us, with around 35 women from Bristol, Bath and Stroud. 
Our Circle focused on the beautiful altar, representing the Goddess and the four directions.  Women bro...
Read Full Post »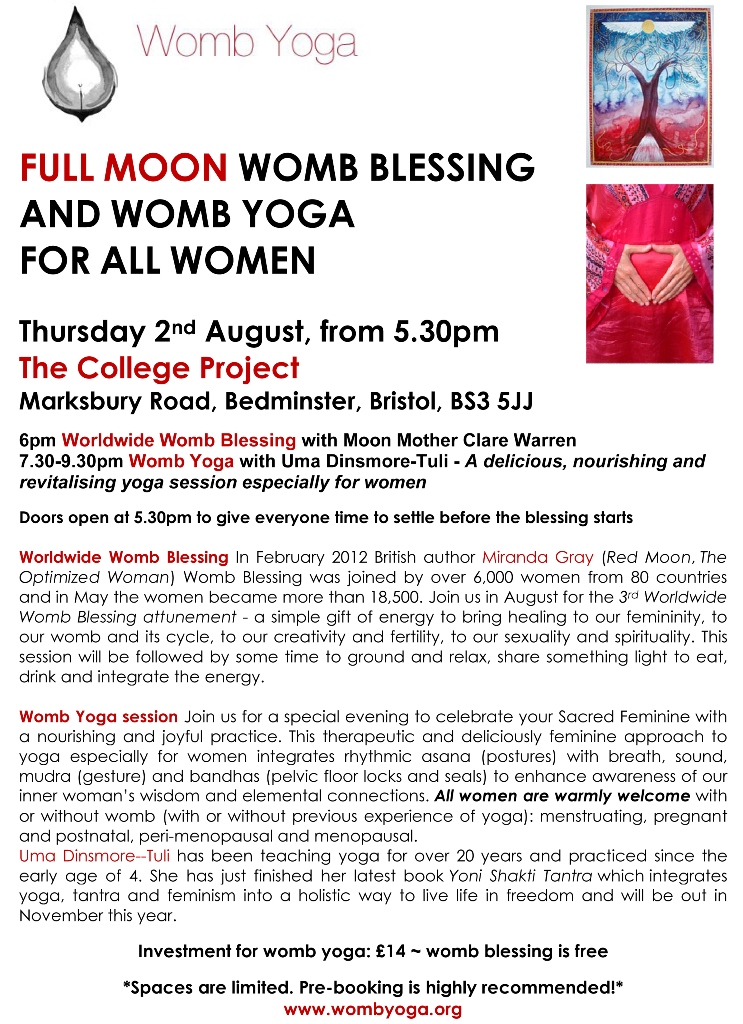 On August the 2nd at the College Project in Bedminster there will be a fabulous evening of women gathering to celebrate their femininity.  My self and Uma Dinsmore-Tuli will be hosting this wo...
Read Full Post »
After training with Miranda in April as a Moon Mother, I felt moved to help spread the healing energy out and share with other women.  The workshop will be held in such a beautiful space at the Centre for Whole Health in Bedminster, south Bristol on August 11th and 12th.
This is such a wonderful experience and a great opportunity to deepen into your re...
Read Full Post »